Maritime
60 passenger capacity ferry, MF Alausa rescued as water ingress into boat 
60 passenger capacity ferry, MF Alausa rescued as water ingress into boat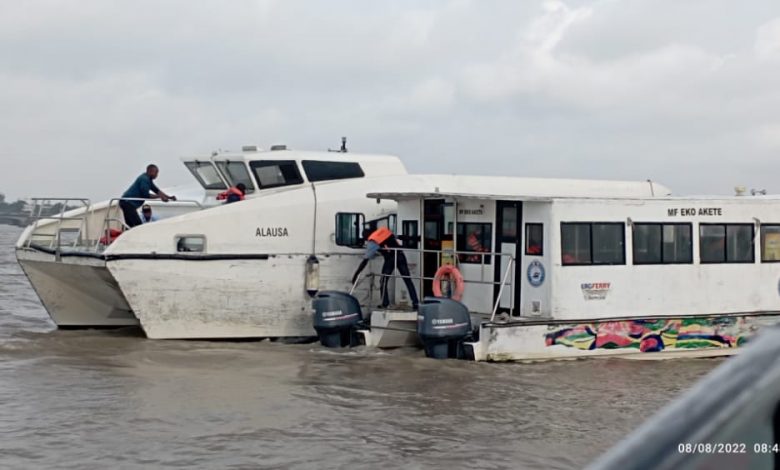 "No major incident because of timely intervention," Ladi Balogun, Lagferry MD confirms.
A major disaster was averted on Monday morning as 60 capacity passenger boat, MF Alausa was rescued after water began to ingress into the boat from the front as a result of probably hitting a wreck during navigation.
Help was immediately deployed by the Lagos State Waterways Authority (LASWA), National Inland Waterways Authority (NIWA), local boat operators after passengers raised an alarm that the boat travelling from Ipakodo to Ebute Ero/Falomo was leaking
In a series of.short messages by officials of the state agency, the passengers confirmed that they were successfully evacuated from the leaking boat
"Passengers raised an SoS that the boat is leaking from the front, the resusce team are enroute
Confirming the rescue operations, some of the passengers sent the following messages.to the regulators
"Small boats to our rescue.
In a chat with our correspondent, the Managing Director of LAGFERRY, Abdoulbaq Ladi Balogun who confirmed the development said that the boat was certified to say by engineers of the LAGFERRY before loading and casting out of Ipakodo terminal.
He added that the cause of the leakage could be as a result of the boat hitting a wreck on its way to Ebute Ero/ CMS
His words, "Passengers raised alarm this morning when they noticed Water Ingress into the boat
"The boat was certified to sail by our Engineers before loading and casting out of Ipakodo Terminal as our Standard Safety Checks before embarking on any trip
"We suspected the boat hitting a wreck on its way to Ebute-ero/CMS. The boat is returning to Ipakodo for further investigation. Then, we can authoritatively confirm the cause(s) of the water ingress
"THANKS TO ALL OF YOU. WE ARE GRATEFUL FOR THE TIMELY ALARM.  WATER INGRESS INTO THE BOAT NOTICED. RESCUE TEAMS WERE VERY RESPONSIVE. PASSENGERS TRANSLOADED. MF ALAUSA MOVING TO DOCK AT FALOMO FOR FURTHER INVESTIGATION," MD, LAGFERRY stated.
He stated further that "We deployed other boats to complete the passengers' journey with the help of LASWA, NIWA and Local Boat Operators
"There's no major incidence at all because of timely alert and swift response
The lagferry boss added that the boat was on its way to Falomo for investigation into the cause of the leakage.