Maritime
Milestone: MWUN lays foundation of Secretariat annex 
...commends MD of NPA for support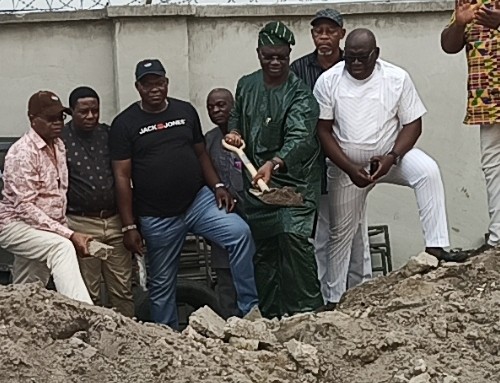 The Maritime Workers' Union of Nigeria (MWUN) on Monday, laid the office of its annex Secretariat at Olodi Apapa in Lagos.
The building which is expected to house executive members of the four branches of the union, is expected to be completed in May 2023.
President General, MWUN, Comrade Adewale Adeyanju disclosed that the ongoing construction is an extension of the national secretariat adding that the strength of the workforce demands extra offices.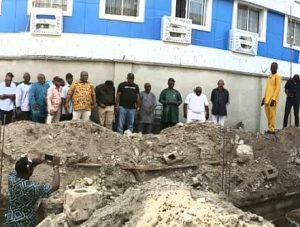 Adeyanju noted that the annex, which was  originally near collapse when he took over the union's leadership was demolished hence the need to start from the foundation to avoid disaster of any kind
The President General pointed out that the Nigerian Ports Authority (NPA) was instrumental to the actualisation of the project
He noted that the Managing Director, NPA, Mohammed Bello Koko played a significant role towards ensuring a benefitting working environment for workers of the union.
He commended the NPA 's  Managing Director for the promise made possible alongside the approval to get the project started.
Asked about the construction duration, Comrade Adeyanju maintained that in less than a year, the project would be commissioned adding that it will warehouse officials of the four branches of the MWUN.
Also speaking, the president of NPA branch, Comrade Ifeanyi Mazeli lauded the Managing Director of NPA for ensuring that the building project saw the light of the day.
"As much as I join my boss to thank the management of the Nigerian Ports Authority, this will be a leverage for the Maritime Workers' Union
"If you observe,you will see that our offices are far apart, we have an office at Kirikiri but this will now afford us 5he opportunity to come together and have easier access to the Secretariat."
Comrade Mazeli added that NPA MD has been doing a lot in terms of Workers' welfare improvement aside the edifice 5hqt all eyes can see.
On his part, the Dockworkers branch president, Comrade Ibrahim Ohize gave the credit to the PG who he described as mr builder saying since he came into office, he has been improving on the projects he met on ground.
*We thank our PG and my co-president for this project. It is a plus to the PG because he is Mr builder because since he came inboard, everything that he met, he has been trying to lift it up," he maintained.
Sunday Avoseh, president Seaman/NIWA and Water Transport Workers' branch lauded the MD of NPA for the support given the union for construction of the Secretariat annex.
He said that the offices in the national Secretariat were already filled up hence the need for the new building to accommodate the staff.